The information on this page is subject to change. Please check the official website for the latest information.
Ankake Spaghetti
Karametei
Karametei (well-established Ankake Spaghetti restaurant)
This dish is known as "Ankake Spaghetti"
Apparently, the owner himself has had no experience in cooking and yet, he created a recipe that has brought great reviews to a dish known as the Ankake Spaghetti.
He has indeed perfected this original recipe from scratch.
Today, the highly successful dish is well loved by everyone!

The Ankake Spaghetti seems to have made a stronger impact than the other specialty dishes or Nagoyameshi.
Surprisingly, at that time, the dish did not have a common name at all.
In fact, the owner concocted this name himself and now the "Ankake Spaghetti" is known for its originality and is raved about most widely. The name gained fame over the TV channels and perhaps, this contributed to the acknowledgement of a unique and original spaghetti dish now known as the famous Ankake Spaghetti.

It is also a popular story that the founder of Karametei, Mr. Shichi started his own restaurant with zero experience as a chef.
With no previous cooking experience whatsoever, he created the delicious tasting Ankake Spaghetti.

The owner of Karametei has not stopped since, actively and creatively developing new items regularly.
Hence, the grand menu is constantly updated with new dishes.
Customers visiting the restaurant can always look forward to trying out new and exciting dishes, and this has become a trademark of Karametei and the owner, always novel and always moving forward with the times.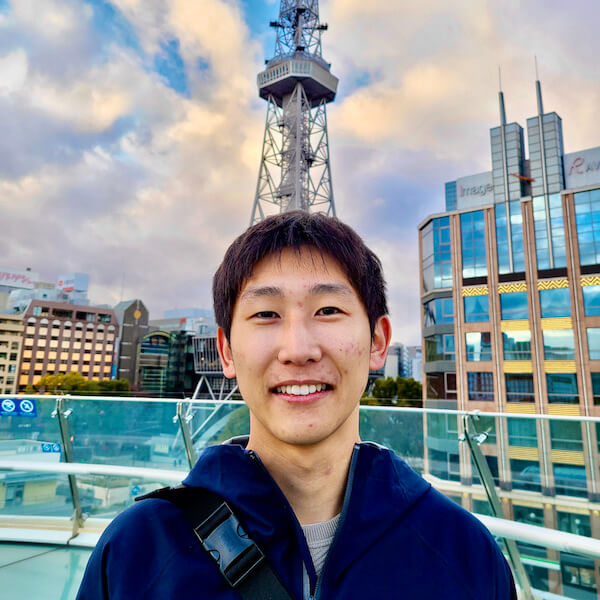 Comments from SHACHIme
Surely, the owner of Karametei has contributed to the exciting development of the innovative food industry with Ankake Spaghetti leading its way in modern times.
I believe the Karametei has also retained its popularity because of the Ankake Spaghetti as well as a growing and strong appreciation for such a passionate chef-owner.
Recommended dishes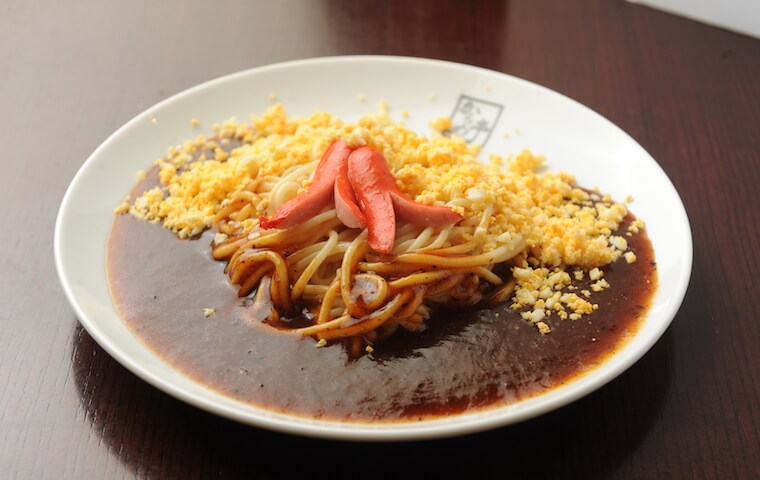 Karametei Spa(wieners, egg) - ¥693 (including tax)
"Karametei Spa, a Signature dish"
The "Karametei Spa" is the restaurant's signature dish.
The toppings are actually very simple, consisting of an egg and a red sausage.
If you are fond of a spaghetti dish with a slightly starchy sauce, this is the best recommendation for you!
The charm of Karametei
"Umakara Spa," is a spaghetti dish with a garlic taste and a hot and sour sauce.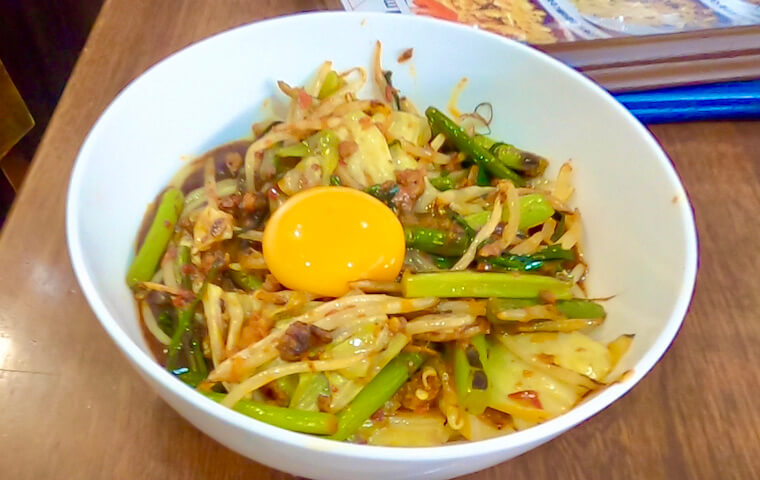 Umakara Spa - ¥1,050 (including tax)
Umakara Spa" is one of my favorite dishes because I love its spicy minced beef topping which has been prepared with gochujang (red pepper paste), bean-paste, garlic shoots, chives, bean sprouts, and cabbage.
I believe the addition of the "Jin Yang Blue Flower Pepper" sets it apart.
This dish might be peculiar to some people trying it for the first time, but it is definitely a repeat dish for many who love its unique and peppery taste.
A wide variety of toppings!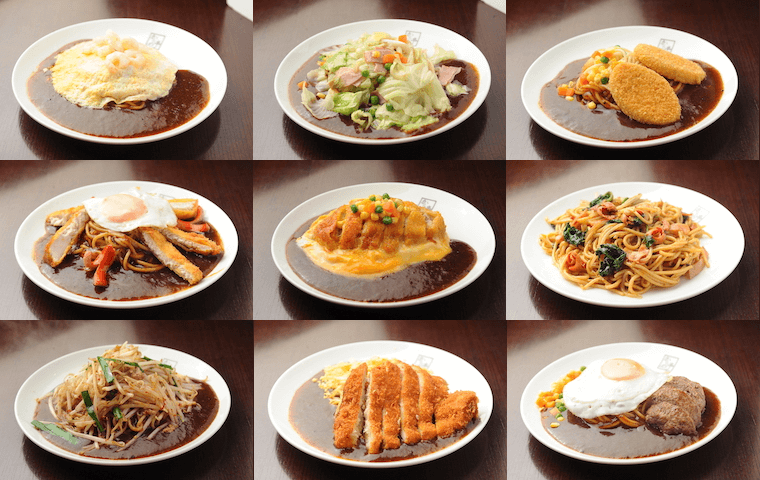 A wide variety of toppings!
This restaurant offers a wide variety of toppings and you can personalise your very own Ankake Spa with your favorite toppings.
You can choose to add on a hamburger steak, a pork cutlet or some cheese, vegetables and even mushrooms too!
MENU
GALLERY
Online Shop
DETAILS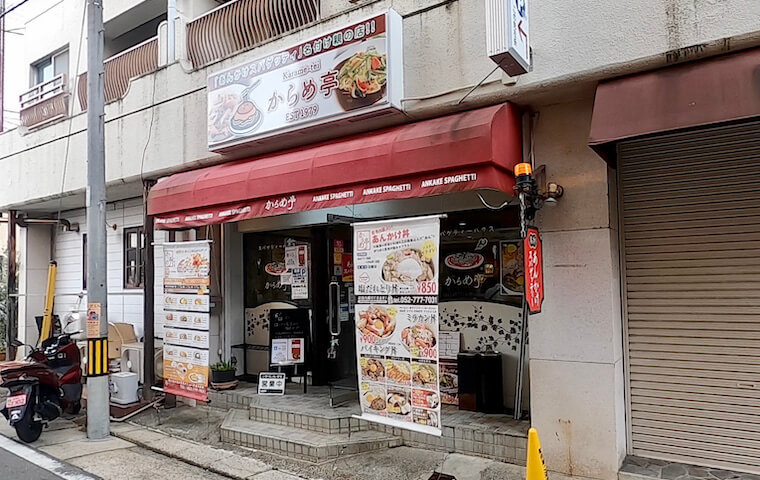 Karametei Issha-ten (Main Restaurant)
| | |
| --- | --- |
| Address | 1-191 Takayashiro, Meito-ku, Nagoya-shi, Aichi |
| Opening Hours | 11:00~21:00 (LO 20:30) |
| Regular Holiday | Every Sundays |
| TEL | +81-52-777-7031 |
| Access | The restaurant is easily accessible by foot via a 4-minute walk from exit 1 of the Issha Station on the Nagoya city Subway Higashiyama Line. |
| Credit card | Not available |
| Smoking and Non-Smoking Rooms | Smoking is strictly prohibited inside the restaurant |
| Number of Seats | 30(8 counter seats、7 table seats) |
| Parking Space | 8 |
| Official Site | http://karametei-ankake.com/ |
Google Maps
Related store information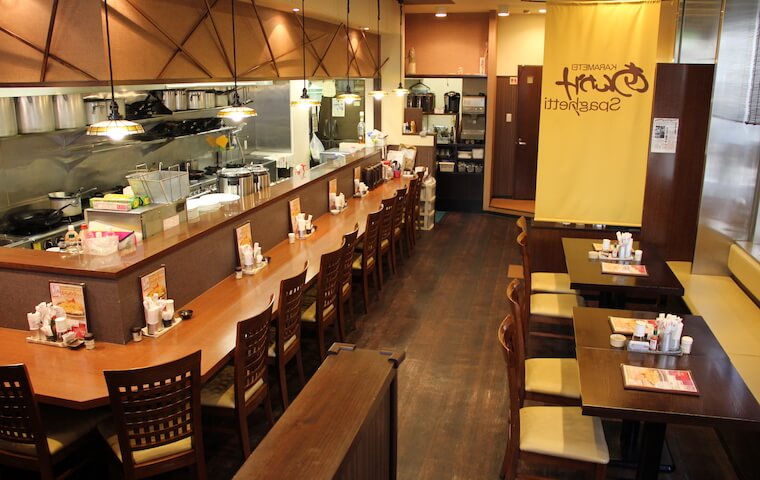 Marunouchi-ten
2-14-4 Marunouchi, Naka-ku, Nagoya-shi, Aichi
[Weekday]11:00~20:30(L.O.20:00)
[Saturdays and holidays] 11:00~19:00(L.O.18:30)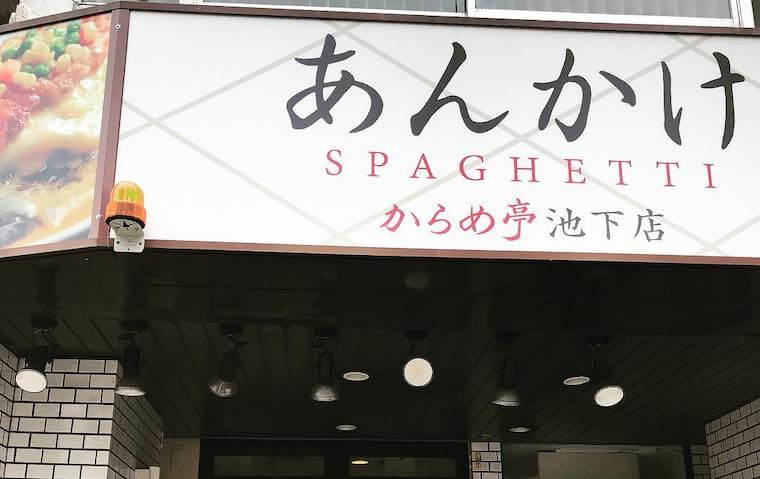 Ikeshita-ten
1-11-19 Ikeshita, Chikusa-ku, Nagoya-shi, Aichi
11:00~21:00 (LO 20:30)
View more