The information on this page is subject to change. Please check the official website for the latest information.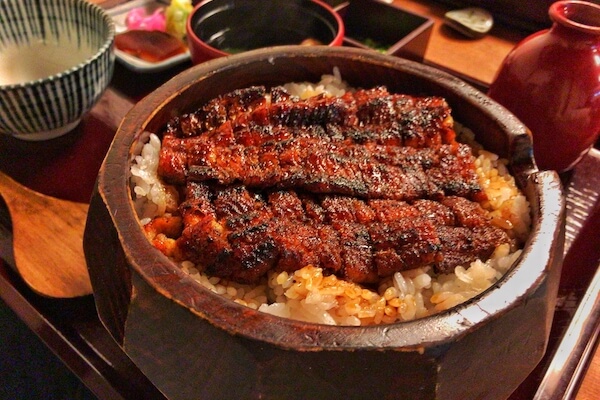 Top 3


Hitsumabushi Restaurants
(Nagoya Local Food Specialities)
What is "Hitsumabushi"?
Hitsumabushi is a Japanese rice dish decorated with grilled Unagi (eel) at the top. The eel is usually cooked with a hot and sweet soy-based sauce and is served in smaller pieces that allows it to be enjoyed with simply plain rice, or accompanying condiments and an original soup stock or hot tea.
View more
Three carefully selected restaurants! Famous Nagoya "Hitsumabushi" Restaurants
Atsuta Houraiken
Comments from SHACHIme
In addition, I am excited to also recommend Atsuta Houraiken for its wonderful atmosphere.
Its Japanese-style façade, both exterior and a stylish interior, contributes to a most pleasurable dining experience!
A long-established eel restaurant established in 1873 showcasing the legacy of its Hitsumabushi
Atsuta Houraiken is renowned in Nagoya and retains its top popularity spot simply because the restaurant also pioneered the original style of eating unagi!
If you have some time, please visit Atsuta Houraiken and enjoy its well-loved Hitsumabushi today!
Address
503 Godo-chō,Atsuta-ku,Nagoya-shi, Aichi 456-0043
Opening Hours
11:30~14:00(L.O.)16:30~20:30(L.O.)
Regular Holiday
Every Wednesdays, 2nd and 4th of Tuesdays will be closed.
(If they falls on a national holiday, it is open)
TEL
+81-52-671-8686
Access
The restaurant is easily accessible by foot via a 3-minute walk from exit 4 of the Tenmacho Station on the Nagoya city Subway Meijo Line.
Payment Mode
Credit cards are accepted
VISA, MASTER, JCB, etc. Debit cards are not accepted
Foreign Language Support
A foreign language menu is available upon request
Cutlery
Knives, forks and spoons are all available
Smoking and Non-Smoking Rooms
Smoking is strictly prohibited inside the restaurant
Number of Seats
180
Parking Space
40
Official Site
https://www.houraiken.com/english/
View more
We've selected three restaurants to introduce you to the best of each cuisine.
Back to the list of Restaurants